Trailer park
At Trailer Made we own a large fleet of different trailers and vehicles for unique, on-the-road experiences. Each trailer is fully customisable, depending on your needs. Take a look at the different options and contact us for more information.
An all-rounder for different types of applications, such as presentations, dinners, receptions, showrooms… Its retro look makes it a unique eye-catcher at every event!
Assembly time: 30 minutes

Dimensions: 13,4 m x 3,5 m x 3,7 m
Extendable in width for extra space. Ideal for demonstrations at trade fairs, training courses and events. Receive your guests in style and in the perfect setting. The layout of the trailer can be adapted to your wishes.
Assembly time: 20 minutes

Dimensions: 13,6 m x 4,6 m x 3,5 m
A completely mobile office unit, in case you need a fully working office on location. This trailer is equipped with excellent equipment, supplied by office specialist Buro Market, from ergonomic chairs and desks to a kitchen and functional meeting room with screens and Wi-Fi connection. This multi-purpose Road Office is always ready to roll!
Assembly time: 15 minutes

Dimensions: 13,6 m x 2,5 m x 4 m
A versatile night trailer for whenever you or your staff need to sleep over at an event. Each trailer includes four separate rooms with bunk beds and a desk for maximum comfort. Ideal for logistics staff, team buildings, sports events … Suitable for all locations.
Assembly time: 15 minutes

Dimensions: 13,6 m x 2,5 m x 4 m
Practical, mobile units, which can be used for merchandising purposes. Easy to transport and assemble, these adaptable containers come with 2190Wp's worth of BlueSolar panels. They are self-sufficient in all weather conditions, thanks the solar panels' exceptional performance – even when there is little light – and their advanced light sensitivity, which spans the entire solar spectrum. Ideal when you are looking for an ecological solution.
Dimensions: 6,06 m x 2,74 m x 2,64 m

Assembly time: 15 minutes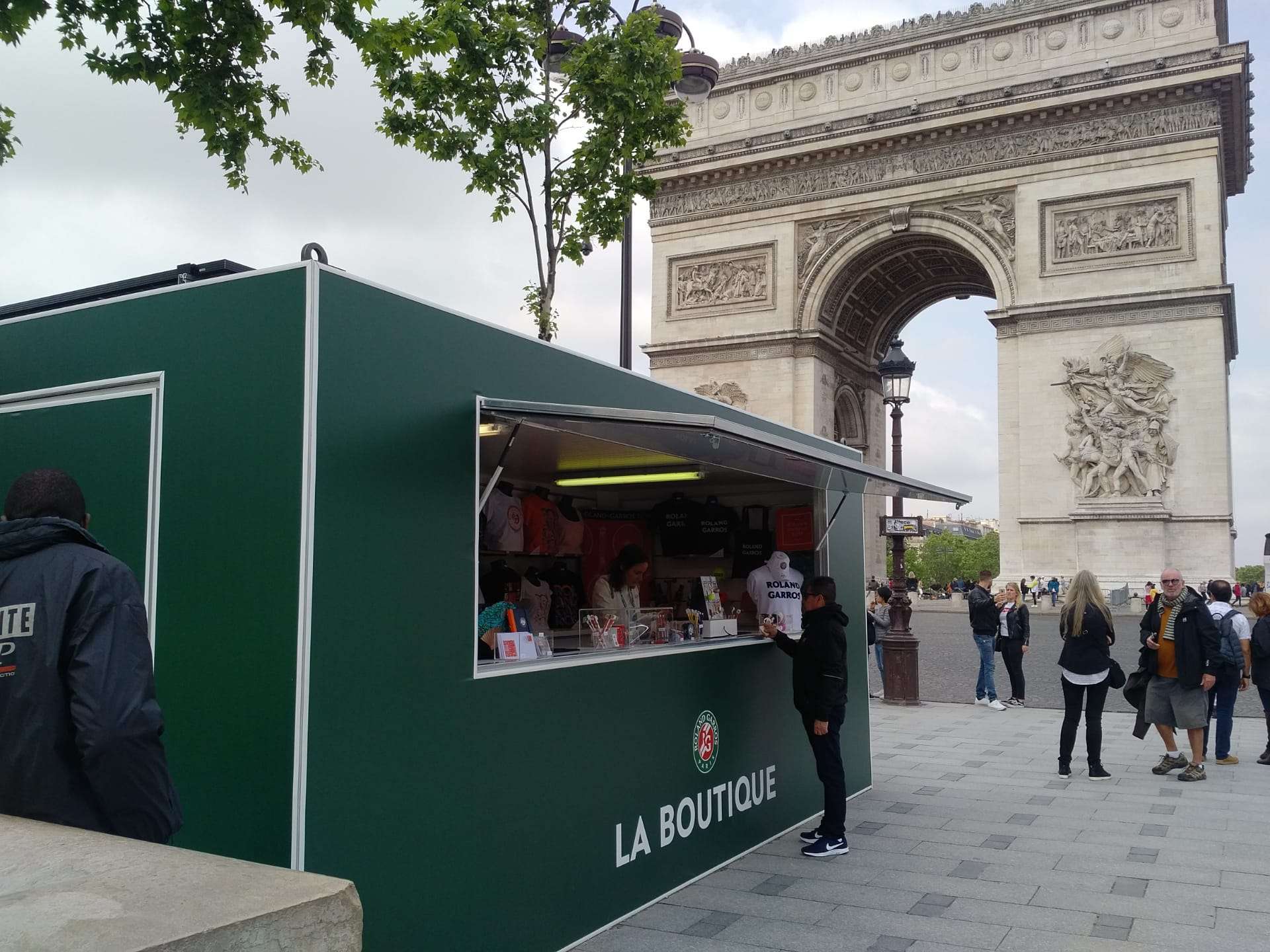 A mobile showroom that is particularly easy to assemble. Its folding wings, on either side, give this trailer extra width. The ideal location to receive guests or to hold product demonstrations. Its big windows give this trailer a light and airy feel.
Dimensions: 5,5 m x 14,5 m x 2,45 m (fully assembled)

Specifications: Can carry up to 500 kilos
The interior is completely empty and has a beautiful grey subfloor. Furthermore, it is fully finished with aluminium and LED lighting. The outside can be folded completely over the opposite side (in 2 parts).
At the customer's request, we always take care of the decoration of the Airstreams, as well as the furnishing on the outside. The logistical act should also be done by our people (Driving licence B/E). We always provide a cabinet trolley type Renault Master as a pulling vehicle also additional materials can be loaded. Independent materials may NOT remain in the airstream during transport, but must be placed in the tow vehicle.
Assembly time: 15 minutes

Dimensions: 9,5 m x 2,4 m x 3,5 m
A unique video wall that offers you the most qualitative image experience on the market. Show all your audio-visual creations in every possible location with this crystal-clear video screen and create an attractive eyecatcher on all events!
Construction time: 15 minutes
All good things come in pairs. And that is no different with our Mobile Sales Booth, because thanks to the construction of this booth, you can talk with customers, both at the front and the back of the trailer. Ideal for an optimal and fast service!